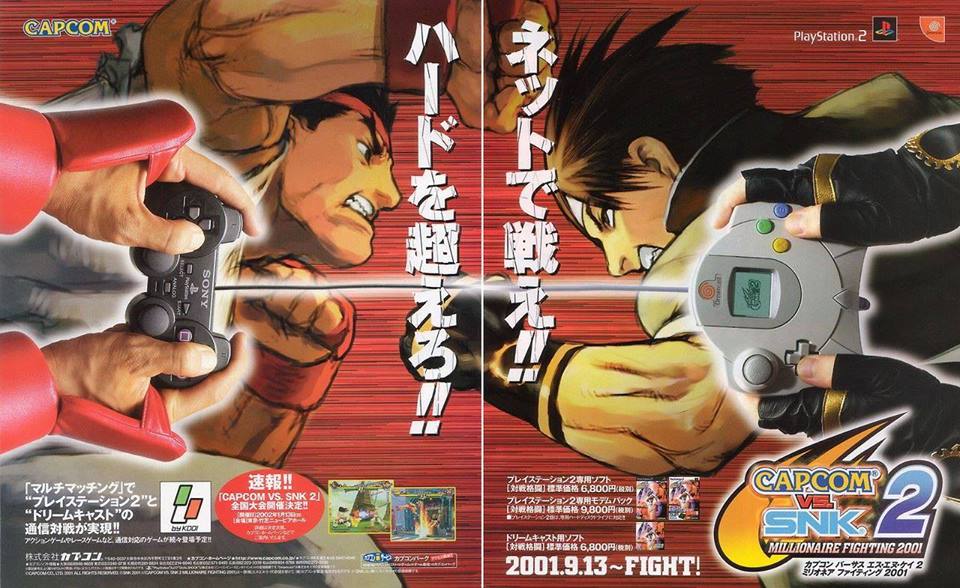 You properly wouldn't believe is but back In Japan 2001, Sega's Dreamcast was able to battle PlayStation 2 in Capcom's 2D arena. By introducing the first cross Platform console play.
Players back in the day were accessible to fight online using the Dreamcast's built-in modem and third-party USB modems for PS2 as well the later official Sony network adaptor and DC broadband adaptor.
This was a big surprise to gamers in Japan but us UK gamers were unfortunate not access to this feature. Personally i am not too sure if this feature was included over in the states. This was all made possible due to the rapid conversions that were completed using Capcom's latest porting technique known as Library Scheme which utilises the code similarities between the Arcade hardware Naomi,Dreamcast and PlayStation 2 System 264 Arcade board. There is a synergy between the integral operating code of the Naomi system and System 264, enabling stable and compatible console versions to be produced.
The networking software involved is KDDI's "Multi Matching" system, which provides low enough latency to make an online fighting game viable. Capcom USA reps were unavailable for comment concerning whether or not online play would be available in the American version of the game, but we'll do our best to find out the answer as soon as possible."
Sony are now only jumping back on the cross network play with the release of the big cult hit Fortnight. It's ashamed that Sony are not Supporting this feature a lot more often.
Back in 2001 what side would you choose?