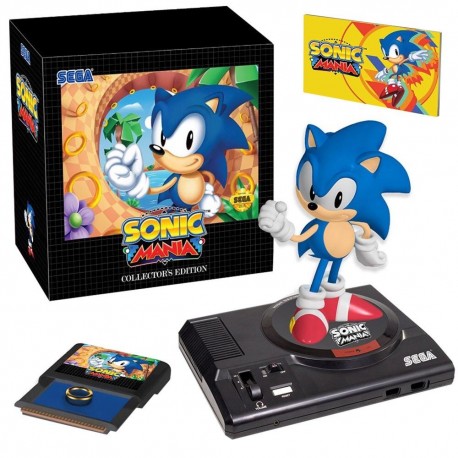 If you haven't heard the good news Sega are bringing back the blue guy in retro 2D style game play – check out the video and coverage here : Sonic Mania post .
Reviled at Sony Japan presentation 2016, This hard hitting Nostalgic Collectors bundle will
include :
A download code for the game,
One 12-inch statue of Sonic with a Mega Drive base that plays the ("Say-gah" audio when you flip the power switch,)
A Sega cartridge cast with a golden ring for extra nostalgia power.
The Collector's Edition is up on Amazon in the US  only with no mention of it being brought over to europe.
The game has announced as a download only with no mention of a physical copy. It will be realised for the  PC, PlayStation 4 and Xbox One priced $69.99. We can always import  but asspect some Eggman mean bean postage cost.
Direct link here to their preorder page. http://www.sonicthehedgehog.com/en/game-info/sonicmania/collectors/