Welcome to Retroguru current compilation of freeware games for the Sega Dreamcast 9/21.
As I recently created a video on the indie physical re release of Hermes ( Link to video ) This has inspired me to go further in the rabbit hole to find out what else retro guru has brought to Sega 's Dreamcast.
Retroguru as stated on their Home page that they are an international team of creative minds, programmers, musicians and graphic artists with a passion for retrogames. With each title compatible with more the 10 systems each, the Dreamcast being one of them. Being inspired by computer games made in the late 80ies and early 90ies undoubtedly do have their very own charm. 8 titles are currently up grabs.
Retroguru will not charge you for digital games! If you still have the urge to give them something, please consider a donation to fund the next project. find more info here https://www.retroguru.com/
You can burn the CDI image to disc which will work on all region consoles . Some titles have a iso version to work on the SD adaptor or Simple transfer the CDI file on on to a GDEMU. ( Purchase one here )
GIANA'S RETURN
Release Date: 2009
GIANA'S RETURN Features
7 Worlds, with each 8 Levels – followed by a big boss
Power Ups and extras
Oldschool style pixeled sprites and tiles
Wonderful hand drawn backgrounds
Illustrated hand drawn storyline
Over 18 tracks of chipmusic!
Multi-language: German, English, French, Spanish
Password and / or savegame (depending on release platform)
Hidden warp zones and bonus caves
Hidden trainer
Top 10 highscore
Link to Download – https://www.gianas-return.de/?page_id=453
SPQRZ
Release Date: 2010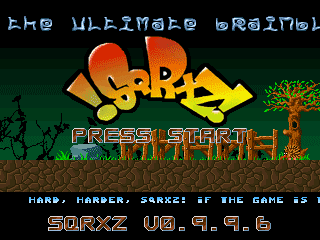 SPQRZ Features
Hardly any game will annoy you more! Frustration deluxe ahead!
Amiga'ish feeling!
16 Levels including a "beginners" level
18 Chiptunes
Classic AND new graphic mode
Top 10 highscore
Endless continue mode
Hidden easter egg
Link to download – https://www.sqrxz.de/sqrxz/
SPQRZ 2
Release Date: 2010
SQRZ 2 Features
Tough challenging gameplay — Extremely difficult; not for weaklings!
Retro graphics!
Hidden passages to discover!
10 tricky n' hard levels!
11 marvellous chiptunes!
Top 10 highscore!
Infinite continue mode, which you will need badly in order to practise! 🙂)
Link to download – https://www.sqrxz.de/sqrxz-2/
SPQRZ 3
Release Date: 2011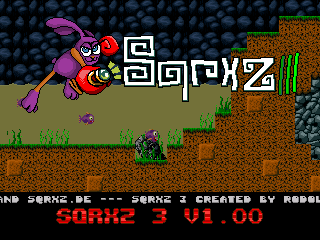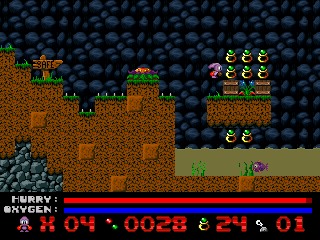 SPQRZ 3 features
Retrolook! Play like anno 1990!
Demanding and almost impossible Jump'n'Run annoyance!
10 knotty levels!
11 wonderful chiptunes!
Top 10 highscore!
Infinite continue mode!
Secrets to discover!
Link to down download – https://www.sqrxz.de/sqrxz-3/
SPQRZ 4
Release Date: 2014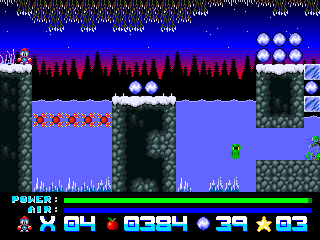 SPQRZ 4 Features
Authentic Retro graphics – Pixels forever!
10 die hard levels!
11 great tunes!
Top 10 highscore!
Unlimited continues!
Hidden passages!
Cheat codes! (if you can find them)
Link to Download – https://www.sqrxz.de/sqrxz-4/
Fruity
Released: 23-10-2015
Fruity's Features
CHand set pixels!
Amiga chiptunes!
Score tracking!
120 levels!
Link to download page –https://www.retroguru.com/fruity/
SUPER NUTMEG
Release Date : September 2019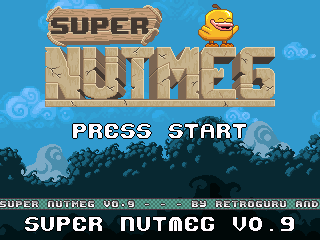 SUPER NUTMEG CORE TEAM
Code: Gisberto Rondinella (nop90)
Producer, Levels, Beta-Test: Shahzad Sahaib (Kojote)
Levels, Beta-Test: Denny Müller (Mulle)
Additional Graphics: Krzysztof Matys (Koyot1222)
Music: Roland Voss (Triace)
Music: Johan Letfors (Vedder)
link to download – https://www.retroguru.com/super-nutmeg/
XUMP
Release Date: 2014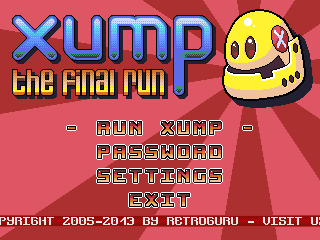 Xump core Features
Joystick, Joypad and Mouse Controls (all system depending)
9 chippy tracks for your audio pleasure
48 Levels
Highscore-List
Retro styled password system
Hidden easter egg – find two more themes (not for Atari Lynx!)
Hidden easter egg – find 32 classic levels
Dreamcast, Mac OS X x86: Porter Xavier Vallejo (Indiket)
Link to Download – https://www.retroguru.com/xump2/
Find retro guru on :
Retroguru on Facebook
Retroguru on Twitter
© Retroguru – All rights reserved